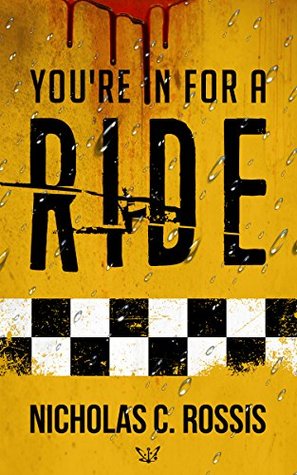 Combining thought-provoking ideas and sudden reframing with pared down prose, Rossis provides a collection that is faced-paced without being shallow.
As with many of Rossis' other collections, this book contains several short stories interspersed between sections of another.
'You're in for a Ride': an ancient creature seeks the last few victims it needs to complete its plans; meanwhile authorities close in on what they believe is a serial killer.

'A Crystal Too Far': a team of soldiers and engineers attempt to break into an alien energy store.

'You Can't Fight a Prophecy': an anthropologist is commissioned to help a team of marines rescue a captive from the jungle.

'Heavy Sits the Frown': a peasant dreams of replacing the king.

'Royal Duties': the heir to the throne is forced to undergo a horrifying ritual.

'Shoot the Devil Redux': two Jews time travel back in time to 1930's Germany with a plan to change the future. Note: while much of the premise is the same as 'Shoot the Devil', it is not a simple redraft.

'Shh – the Baby's Sleeping': a doctor fights to allow a patient to keep her happy delusions rather than be cured.
This edition also contained three stories reprinted from previous collections.
Each of the stories is distinguished by an interesting idea; a 'what if….?' strong enough to lift the necessarily brief form of the short story above a simple description of a few events.
As with previous works, this collection features two of Rossis' trademark choices: twists in the tail; and minimal use of names, descriptions, and other trappings of character and place
While not every story has a sharp change in perspective at the end, most of them do. Therefore, while none of the endings are incompatible with the set-up, this is very much a collection for people who find a certain joy in seeing how an author has balanced ambiguous evidence with giving a reader a sporting chance; rather than those who feel cheated by not having everything they need to know what's going on.
In his afterword, Rossis states that he avoids these details to prevent the reader's previous associations from tainting the story. And this approach does increase the reader's immersion in the story in some cases. However, there are potentially exceptions: most notably a story where the protagonist's gender is only revealed toward the end, which is likely to leave readers who had assumed the opposite with their mental image crashing around their heads.
Unfortunately, there are a couple of instances where these two characteristics amplify each other's negative impact, creating a story where the twist is more abrupt because the unstated information is something a reader would immediately notice in real life but almost never assume to be the case.
Unlike previous collections, the eponymous story spread throughout book does not frame the other stories. As such, while it is an enjoyable tale, the intervening works provide more of a distraction from rather than an insight into events; therefore readers who take a break part way through the book might find they have lost the thread of 'You're in for a Ride'.
Overall, I enjoyed this collection. I recommend it to readers seeking brief yet intriguing tales of science-fiction, fantasy, and horror.
I received a free copy from the author with no obligation to review.
Save