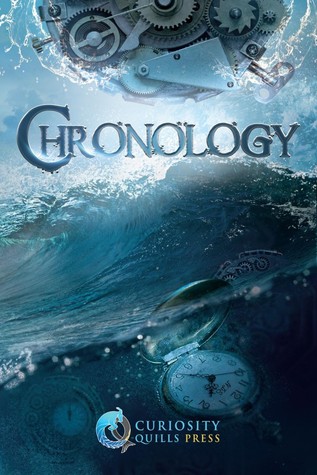 This anthology contains 24 short stories of speculative fiction in a range of genres and styles.
'Draconic King' by James Wymore: seeing weakness in a neighbouring country, a young king attempts to convince the dragon who aided his ancestors to join his invasion.

'Wind Up Hearts' by Stan Swanson: two people, granted longevity by an experimental clockwork heart, seek a future defined by more than their mutual technology.

'Flight of the Pegasus' by Darin Kennedy: a government agent attempts to convince a savant to aid him in a mission against a super-villain.

'That Which is Hidden' by Julie Frost: A werewolf resolves to track the killers of the only woman who didn't judge him by his condition.

'Whitechapel' by Andrew Buckley: when the forces of darkness clothe themselves in the form of prostitutes and the downtrodden, a man is forced to keep the streets of Victorian London safe.

'The Lair' by Tony Healey: an adventurer flees an ancient temple with a fabled idol, but the journey back proves to be more dangerous than the one there.

'Signs Unseen' by J.P. Moynahan: a man who values money above race falls foul of unspoken "laws" about segregation.

'In the Clutches of the Mummy Prince' by B.C. Johnson: a lantern-jawed manly hero and his long-suffering manservant investigate a plot to release the undead throughout Chile.

'Bait and Witch' by J.P. Sloan: a classically trained sorcerer accepts a job to protect a witch from her purportedly Christian neighbours.

'Inmate #85298' by Andrew J. Rausch: a prisoner survives his execution; but – unlike the urban myths suggest – the state wants to keep trying.

'Lava' by Piers Anthony: a man in love with spirit of a volcano must find a middle ground between flesh-searing heat and dead rock.

'Strange Flesh' by Katie Young: three members of a very exclusive dining society travel to a Scottish island in search of a mysterious fish mentioned in one of Darwin's diaries.

'Wampus Cat' by Scott Nicholson: a young woman joins her new boyfriend on a trip to the wilderness, only to discover he is neither over his ex nor a woodsman.

'Yours Until the Ink Dries' by Jordan Elizabeth: a girl from a poor family escapes drudgery and bullying by drawing the fairies that others seem to not see.

'The Room Below' by Wilbert Stanton: a young woman is committed to a mental institution after a suicide attempt. When a lurking terror begins to take inmates at night, she is forced to question whether she wants to die.

'The Comeback' by Tara Tyler: a young man with terminal cancer is offered a second chance at life by a backwoods shaman

'The Bull' by J.R. Rain: a superhero tells his tawdry origin story.

'After-Party' by Mark W. Woodring: when a physics experiment goes wrong, two brothers with very different lives try to make sense of the new world.

'The Unattended Life' by J.E. Anckorn: a man who spends his life cleaning away the signs of violent death discovers that hiding the signs doesn't solve the problem.

'The Colorado King' by Nathan L. Yocum: a preacher leads his daughter across a post-apocalyptic wasteland in search of his wife's family.

'Gookie Visits Her Moma' by G. Miki Hayden: when a family from her home planet seek the return of their son, it seems an easy way for a bounty hunter to earn money and visit her mother.

'Above the Clouds' by Richard Roberts: a sentient aircraft struggles to escape negative comparisons with his predecessor.

'Innocent Deception' by Matthew S. Cox: the daughter of a bioengineering magnate is kidnapped by terrorists. But is she really who she seems or one of the many duplicates rumoured to exist?

'Limited Liability' by Matthew Graybosch: an entrepreneur planning to move a small moon loses his investors one by one to a mysterious circumstances.
The range of tones, from lightly comic to bleak, and genres are well-distributed through the collection, creating a solid contrast between one story and the next. Therefore, even if reading back-to-back without a break, readers are unlikely to suffer the theme-fatigue that can come from some anthologies.
However, this variation of voice, theme, and such also increases the risk a reader will not enjoy every story. With many stories to choose from, this is more likely to be a minor rather than significant issue, if it is an issue at all.
A number of these stories are set in the same world as novels penned by their authors. Each of these functions narratively as a stand-alone; however, depending on which contributors a reader is already familiar with, some readers might find nuances of background and detail confusing.
Of those authors I have read, the stories seemed to represent a contributors works making this a useful introduction.
Overall – while some of the stories were more to my taste than others – I enjoyed this anthology. I recommend it to readers seeking a range of speculative fiction or new authors to stalk.
I received a free copy from Jordan Elizabeth in exchange for a fair review.