Continuing this week's theme of expressions of love, this mural of Donald Trump kissing Boris Johnson went up near me earlier this month. On the surface it seems like political satire, but it might be much more. It might be an effort not to mock, but to uplift.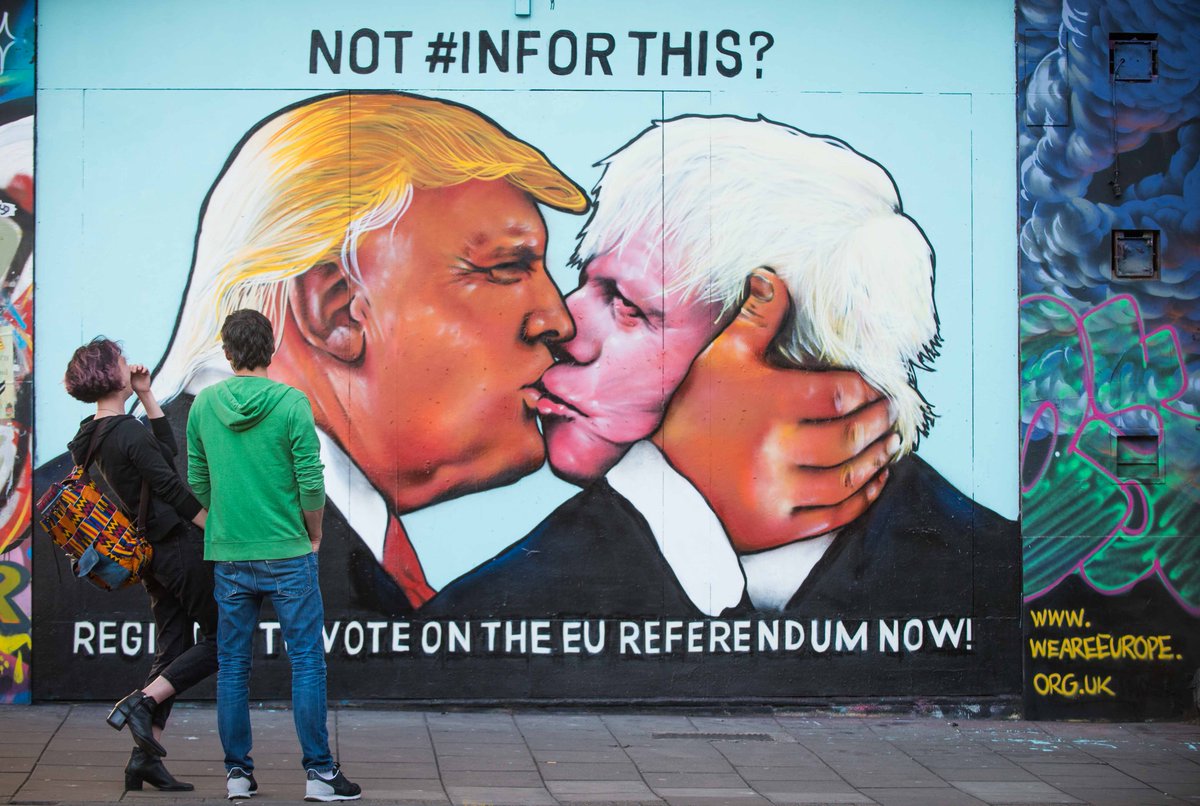 The intersection of street art and pro-European sentiment is on the whole liberal rather than reactionary; so, it is more likely than not the artist doesn't consider homosexuality a degenerate trait.
But, if Trump and Johnson kissing is not an accusation of imperfection, then what is it? Maybe it is what it seems, a symbol of love.
Next we consider the placement of the figures, looking toward each other, with Trump's arm forming a barrier from the audience. Both men are politicians, so should seek the limelight; and yet they consider each other more important than the eternal viewer. This is not just love, but a love that is more important than the surface image of populist rhetoric.
The background supports this. Pale blues are often symbolic of both truth and sophistication; in Christian traditions, sky blue is the sign of heaven; in Buddhist traditions sky blue can symbolise the primordial Buddha of emptiness. The figures are surrounded by the concept that there is more than initial appearance.
On the surface, this seems like an odd reading of political graffiti. However, from the earliest cave paintings, art has served two purposes: to document what is or has been, that it is more likely to be known; and to embody what might be, that it is more likely to occur. It is this aspirational aspect that might reveal the artist's intent. This is not an insult based on current traits, but an ensigilisation of a hope that Trump and Johnson (and by extension all who use the false division with the Other to gather a tribe around them) might find something more important than the superficial popularity of the mob; might, accepted for who they are by a loving gaze, no longer need the glare of populism to cover an inner lack.
So, I join with the artist in, to paraphrase King Mob, creating a world where everyone is happy including the ones I disagree with.