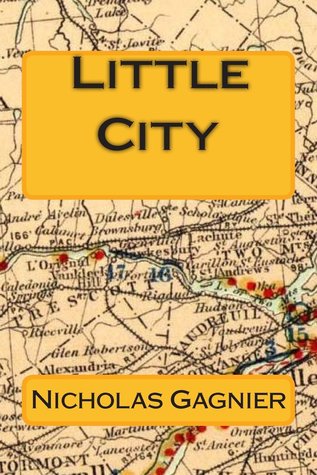 Gagnier provides a series of vignettes and perspectives, both supported and subverted by a light yet firm grasp of language. Holding together, yet having no common story, the collection is open to both the devourer and the casual nibbler.
This collection contains 11 poems, loosely connected by the common setting of Gagnier's home town; a home town he neither names nor seeks to conceal. Ranging from overt social exclusion to the subtle barrier of wage slavery, the works are happy, sad, or accepting without strata of deprivation.
Because it's strange, watching meadows we played become perfectly

placed duplexes, entire sections of a childhood built over. Where we

laid beneath the stars counting solar systems and naming objects in

the distance they built a mall, and doll, the night sky has adapted

but somehow,


the horizon's colder.

– Growing Up Here (Means You Don't Wanna Grow Old Here)
Gagnier's introduction states that this collection is filled with the poems he wasn't self-indulgent to write about himself; instead, the excesses of his experiences are set in the socially acceptable format of a love/hate relationship with his home town, a place with 'air so thick it's hardly/edible'.
Even that most acceptable outlet for certainty, religion, carries the stain of excess; of being something a proper person keeps inside, rather than wearing where others can see it.
I met Jesus on the street, preaching apocalypse, if he could only

auction off a date.

Trying to be heard over rape culture rallies held outside the old gallery,

he called them sinners, called them sluts; take this pamphlet, ladies, no

man deserves a wife with the balls to wear that haircut.

– Street Lit Majors
But the mind he lived in before he bought the idea that self-expression is self-indulgent won't stay hidden; like the infinite spaces of childhood buried beneath a compact-but-spacious office block, roots of character and blades of past open cracks.
And there is time enough for love. Portraying two sides to separation, 'Rent' and 'Walking Each Other Home' both show worlds in which earning money and playing by the rules deny us opportunities for closeness; but where 'Rent' holds out the tangible rewards of not admitting defeat, 'Walking Each Other Home' offers a more radical path of rejecting the possession/absence dichotomy of modern civilisation in favour of embracing the joy that they exist.
They taught me to spot joy in a line-up

– Chapel
In parallel with a nuanced feeling for imagery and word choice, Gagnier takes the structural freedom of free verse and turns it into a message of its own. This is most evident in 'Head Shop' (a collaboration with Holden Lyric), where a blank line between verses is interrupted with an aside requesting/advising/describing silence. Expecting the conventions of new verses as movements forward, the reader is left wondering how long the gap should be and even whether it is they who should be leaving one.
And though I may

sport a coat as stained as

my libido, just consider me an

abortion of more

advanced kinds,

raised in forfeiture and a proud servant

of everything possible

going awry.

– Clinic
Unlike some poets revealing the pains and issues of the past imperfect, Gagnier does not add a call to revolution or to universal truth; remaining, as his introduction suggests, in autobiography, he leaves the reader to respond as they will from sympathy not empathy.
I really enjoyed this collection and have read it several times since I received it. I recommend it to readers seeking a subtle but powerful experience of social constraint.
I received a pre-release copy from the author in exchange for a fair review.