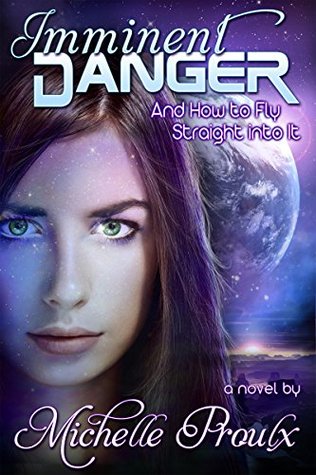 Combining intergalactic peril with comic romance, this book offers entertainment free of both mawkishness and explosion-escalation.
Eris Miller's biggest problem is not quite fitting in at her rich boarding school. Until she is kidnapped by aliens intent on selling her in slavery, rescued by a dashing renegade called Varrin, and then sold into slavery by her rescuer.
While having a seventeen-year-old protagonist does not automatically make a book Young Adult, the combination of the passions and trust issues of first love, and a breezy style suggest this book will find a more natural home with the optimistic than the cynical.
That said, although a disdain for the intensity of teenage feelings might prevent enjoyment, the book is strong enough to hold up against the gentle distance of maturity.
Interrupting a scene of collegiate normality with a jumble of blue-scaled limbs, an impractical blue-hued cell, and a decided lack of explanations, Proulx introduces the wider world in a mix of humour and peril; a mix that continues throughout the book.
Underpinning the slightly comical aliens and vaguely implausible technology is a classic romantic thriller. Piling glib explanation on top of casual betrayal on top of forced alliance, Proulx provides the reader with the superior feeling of knowing the protagonists care for each other without the tension-deflating certainty that they love each other enough.
Displaying both almost wilful self-doubt and flickers of maturity, Eris seems an entirely plausible teenager. Her acceptance that aliens exist is swift, but not precipitate; and her incompetence with the unfamiliar neither mysteriously evaporates nor becomes pathological.
In contrast to Eris' distress, Varrin is as competent as he is arrogant, just. However, fleeting moments in which he does not ignore the needs of others reveal this to be a pathetic mask rather than bland characterisation.
Overall, I enjoyed this novel. I recommend it to readers seeking a light, fast-paced, science-fiction escapade.