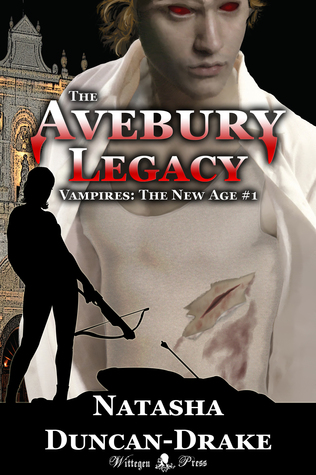 Rejecting both the traditional image of vampires as irrevocably evil and the modern image of vampires as magical superheroes, Duncan-Drake has created a mythology where vampirism strongly influences a person's needs, wants, and abilities but is only one aspect of their personality.
Nate and Lexie are infected by vampirism. The insight and power they have gained make them effective vampire hunters, and Lexie's witchcraft holds the transformation at bay; but each spell has slightly less effect. Their only hope of a cure is the fabled Avebury ritual. Forced into a fragile alliance with other vampire hunters, and pursued by an ancient vampire who believes the ritual offers untold power, they must find the four artefacts used in the original ritual.
Filled with traps, mystical guardians, and side-missions to win the trust of supporting characters, the plot is a well-constructed example of the classic fantasy quest reset in the modern world. While this leaves no question of the major points on the route, Duncan-Drake does not allow the journey to become linear; with a balance of supernatural and mundane obstacles, the question is not what must be achieved, but how and at what cost.
Although the plot is very much a fast-moving, modern affair, the style is in places less so. Duncan-Drake rarely uses contractions in description, and often adds adverbs instead of, or as well as, letting dialogue and actions imply characteristics and beliefs. While this is not a major issue, it does produce an air of formal narration in places that can distance the reader from events.
Rejecting the best-of-both-world's trope used by some authors of half-vampire vampire hunters, Duncan-Drake provides Nate with an equal amount of the flaws of each state, both biological and social. With the real advantages of his condition only available by allowing the nascent vampirism greater hold over his behaviour, and prejudice isolating him from friends and allies, his portrayal is strongly focused on vampirism. However, this (plausible) defining characteristic, is balanced by sufficient quirks of personality to prevent him seeming stereotypical or flat.
The other characters are a similar balance of focus and nuance, producing a cast who resonate with the inexorable progression of gathering the pieces to perform the ritual, without being subsumed by the plot. This is especially true of the variety of motives for pursuing the ritual: from a genuine desire for a cure to straight monetary gain.
The vampires display this mix of defining trait and individuality even more strongly. While young vampires are subsumed by their creator's will, those who survive – especially when separated from their creator – develop both greater freedom and more varied personalities.
Although Duncan-Drake's characters are personalities in their own right, much of their behaviour is shaped by the gathering of the artefacts, so this novel might not suit readers who prefer a strongly character-driven story.
Overall, I enjoyed this novel. I recommend it to readers seeking a modern vampire tale not defined by its protagonist's sexiness.
I received a free copy of this book from the author in exchange for a fair review.